From the Guardian UK:
John Lennon's loo fetches £9,500 at auction for Beatles fans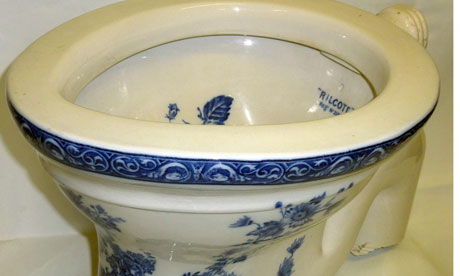 A porcelain lavatory which John Lennon told a builder to use as a "plant pot" has fetched £9,500 – nearly 10 times its guide price – at an auction today.
The loo was used by the music legend when he lived at Tittenhurst Park in Berkshire between 1969 and 1972.
Lennon told builder John Hancock to keep it and "use it as a plant pot", after he installed a new one.
The toilet was stored in a shed at Mr Hancock's home for 40 years until he died recently.
It was expected to fetch only £1,000 at the auction at the 33rd annual Beatles Convention in Liverpool today. But an overseas investor forked out £9,500 for it.
Auction organiser and Beatles expert Stephen Bailey said: "It is unbelievable. We had bids coming in from all over the place but it went to a private overseas buyer."
The loo was among the highlights of the auction of Beatles memorabilia.
Also up for grabs was a rare mono-sound copy of Two Virgins, which Lennon recorded with wife Yoko Ono. It was expected to fetch at least £2,500.
When the LP was released in November 1968, it was sold in brown paper bags as the sleeve controversially featured a naked picture of the famous couple.
A limited release of 5,000 stereo versions of the album were available in shops, but fans had to write to the record label to purchase a mono copy of the record.
The exact number of mono copies sold is unknown. However, organisers say it is likely to be as few as a "couple of hundred".
What is it with memorabilia hounds and toilets? Is it just one guy who is a wackjob combo of scatologist/celeb stalker who is buying these and plans on building a museum ?
Was he the guy hiding in the brush behind Jerry Garcia's house in Northern CA that day that an old toilet was brought to the curb and "mysteriously vanished" less than an hour later.? (sung to the tune of "Roll away..the Loo")
Has he been forcibly removed from Graceland more than once for sneaking past the velvet ropes and zebra print wallpaper armed with a camera and trying to get a shot of the "Holy Grail" of johns....the one on which Elvis pushed out a peanut butter and banana doody too fast and too hard and blew out a vein in his neck , breathing his last breath in Aug of '77?
I know there's a list of celebrity toilets sold at auction or stolen somewhere...anyone wanna send me a link?
Please don't poo-poo this request. I'm a serious rock journalist and I need to get to the bottom of this....
Also, Brits, help a brother out...How much is 9500 pounds in US greenbacks.?